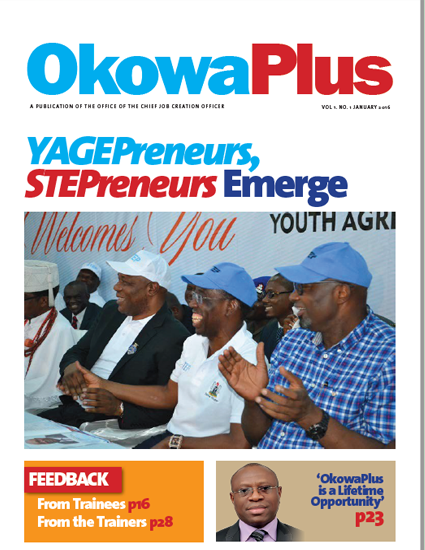 From His Excellency
The debut of this Newsletter is another significant development in our Job and Wealth Creation Scheme. In the six months that the Scheme has been in operation, we have witnessed remarkable progress in our unrelenting quest to fulfil our campaign promise of prosperity for all Deltans.
It is gratifying that the coming of this Newsletter coincides with the passing-out activities/ceremony of the first set of the first batch of trainees under the Youth Agricultural Entrepreneurs Programme (YAGEP) and the Skills Training and Entrepreneurship Programme (STEP).
As with all other mass communication vehicles, I expect this Newsletter to perform the traditional roles of information, education and agenda setting. Through this medium, Deltans should be properly and adequately informed of the policies, activities and programmes of the Job and Wealth Creation Scheme to enable them understand it better and make informed commentaries/choices.
I also look forward to comments from beneficiaries even after they have started their enterprises, and suggestions as to how we can improve and expand the coverage of the Job and Wealth Creation Scheme.
Finally, I commend the Office of the Chief Job Creation Officer for this maiden edition, which is quite informative and meets the highest production quality.
I wish our YAGEPreneurs and STEPreneurs success and great accomplishments in life.
Senator, Dr. Ifeanyi Okowa
Governor, Delta State
OkowaPlus First Edition Read Newsletter