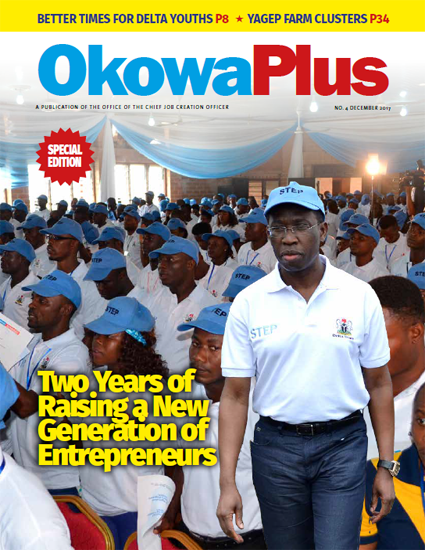 The Unfolding of a Vision
Being Address by His Excellency, Senator Dr Ifeanyi Okowa on the inauguration of the Skills Training and Entrepreneurship Programme (STEP) and Youth Agricultural Entrepreneurs Programme (YAGEP)
I gladly welcome all of you to this ceremony, the official inauguration of Skills Training and Entrepreneurship Programme (STEP) and Youth Agricultural Entrepreneurs Programme (YAGEP) of our Job and Wealth Creation Scheme.
Today's event is undeniable proof that our administration's S.M.A.R.T agenda is well and truly on course. It goes without saying that Job and wealth creation are the bedrock of the S.M.A.R.T agenda, with YAGEP and STEP as the flagship programmes.
Other programmes under the Job and Wealth Creation Scheme are Production and Processing Support Programme (PPSP), Development of Agro-Industries, and Extension of Microcredit. All the programmes have been strategically designed, stringently planned and specifically tailored to tackle the problem of youth unemployment and produce lasting and sustainable prosperity across board.
Our strategy for making this a reality is through focussed and concentrated efforts to stimulate the growth and development of Micro, Small and Medium Scale Enterprises (MSMEs). While multinational companies and big corporations get all the public attention and acclaim for their capacity to induce foreign investment capital, MSMEs remain the backbone for economic growth and social development in any society.
By definition, MSMEs are companies that employ less than 250 persons and available statistics indicate that 97% of all businesses in Nigeria employ less than 100 persons. Meanwhile, they account for about 50% of Nigeria's productive workforce and 46.54% of the Gross Domestic Product (GDP). The story is not different in other parts of the world. There are approximately 23 million small businesses in the USA and they employ more than 50% of the private workforce and generate more than half of the nation's gross domestic product (GDP). Similarly, MSMEs account for 99.8% of all companies and 65% of business turnover in the European Union.
It is for this reason that this administration is very passionate, deliberate and focussed in our quest to formulate tangible and lasting policies and/or programmes to support the small business sector. The overarching goal of the job and wealth
READ MORE Download Newsletter Here