Job Creation: Delta State Government Flags-off Distribution of Starter Packs to 2017/2018 Beneficiaries of Brown STEP
In continuation of its commitment to providing employment for its teeming unemployed youths, the Delta State Government has commenced the distribution of starter packs to beneficiaries of its 2017/2018 cycle.
This was made known at the flag-off of the event for 81 beneficiaries of the Skills Training and Entrepreneurship programme, tagged "Brown STEP" by the wife of the Governor, Dame Edith Okowa, in Asaba.
Advising them, Dame Okowa charged the beneficiaries to put their starter packs into good use with optimum dedication so as to grow their enterprises into enviable heights.
She commended them for acquiring vocational skills in spite of their academic qualifications, tasking them to uphold the tenets of the programme and to sustain their businesses to the point of training other unemployed youths.
While praying for their success, she enjoined them to commit their enterprises to God.
On his part, the Chief Job Creation Officer, Prof Eric Eboh, said "the job creation scheme through the Skills Training and Entrepreneurship Programme (STEP) and the Youth Agricultural and Entrepreneurs Programme (YAGEP) has engaged Deltan 3,069 youths who were previously unemployed."
He affirmed that the programmes are already yielding its fruits as STEP and YAGEP are transforming the lives of the beneficiaries, creating livelihoods, changing the landscape of youth empowerment and stimulating economic diversification of the state.
He disclosed that many states of the federation are now adopting the Delta State model of job creation for youth training and empowerment for self-employment, stating that the World Bank and European Union –assisted SEEFOR project is providing financial support in recognition of the success of the programme.
He said, "The job creation programme is running its third cycle and has a new introduction, Brown STEP who are persons who have already undergone vocational skills training on their own volition, but were selected and enhanced through refresher skills training and entrepreneurship training to adequately qualify for starter packs to owe and run their enterprises."
He pointed out that Brown STEP category has 209 beneficiaries out of a total of 582 STEP trainees, adding that starter packs will be distributed in batches to them beginning with today batch consisting of Fashion Design & Tailoring-60 persons; Welding & Fabrication- 20 persons and Interlocking- 1 person.
The components of the starter packs included the following. Fashion Design & Tailoring: an industrial sewing machine, cutting table, pressing iron, a generator (2.9 kVA-copper coil), #50,000.00 cash support and #8,000.00 transport fare.
Interlocking: a wheel barrow, elephant spade, 2 big trowels, 300 pieces of mould design (60cl), 15 kerbs (3 inches), 10 kerbs (4 inches),  10 kerbs (5 inches), 2 big mallet, 3 brushes, a 750 gallons water tank, a compacting machine (G163), #50,000.00 cash support and #8,000.00 transport fare.
Welding & Fabrication: a welding machine (BX1-315-KAIERDA-70-Kg-80kg, 68 x 48 x70 cm); a table vice (Accord England) SPEC A04 no 6, angular hand grinding machine (electric) 230mm, 2, 350watts; a pipe bending machine with block  (locally made); drilling machine (Bosch 13mm); scriber (Germany 8 inches); measuring tape (16 feet); cold chisel (8 inches); welding shield; wire brush (4 line); chipping hammer; hammer (21B) (Muller Germany) 200kg; hack saw frame (iron head); saw blades (sandflex roll original); file set (5 in a set); centre punch; try square steel) long MDN; welding gloves (leather long); safety boots; cover-all (fire resistant); dark and plain safety google; a safety helmet; lister generator (delma engine S195mm diesel engine, 150kg-170kg; delma generator alternator (7.5KVA, 230 volts-50HTZ); #50,000.00 cash support and #8,000.00 transport fare.
The wife of the Governor, Dame Edith Okowa, was taken on a brief tour of the starter packs gallery where she interacted with some beneficiaries who expressed their gratitude to the state government for the empowerment with a pledge to put their starter packs into judicious use.
The high point of the event was the symbolic handing out of starter packs to some beneficiaries by the wife of the Governor, Dame Edith Okowa.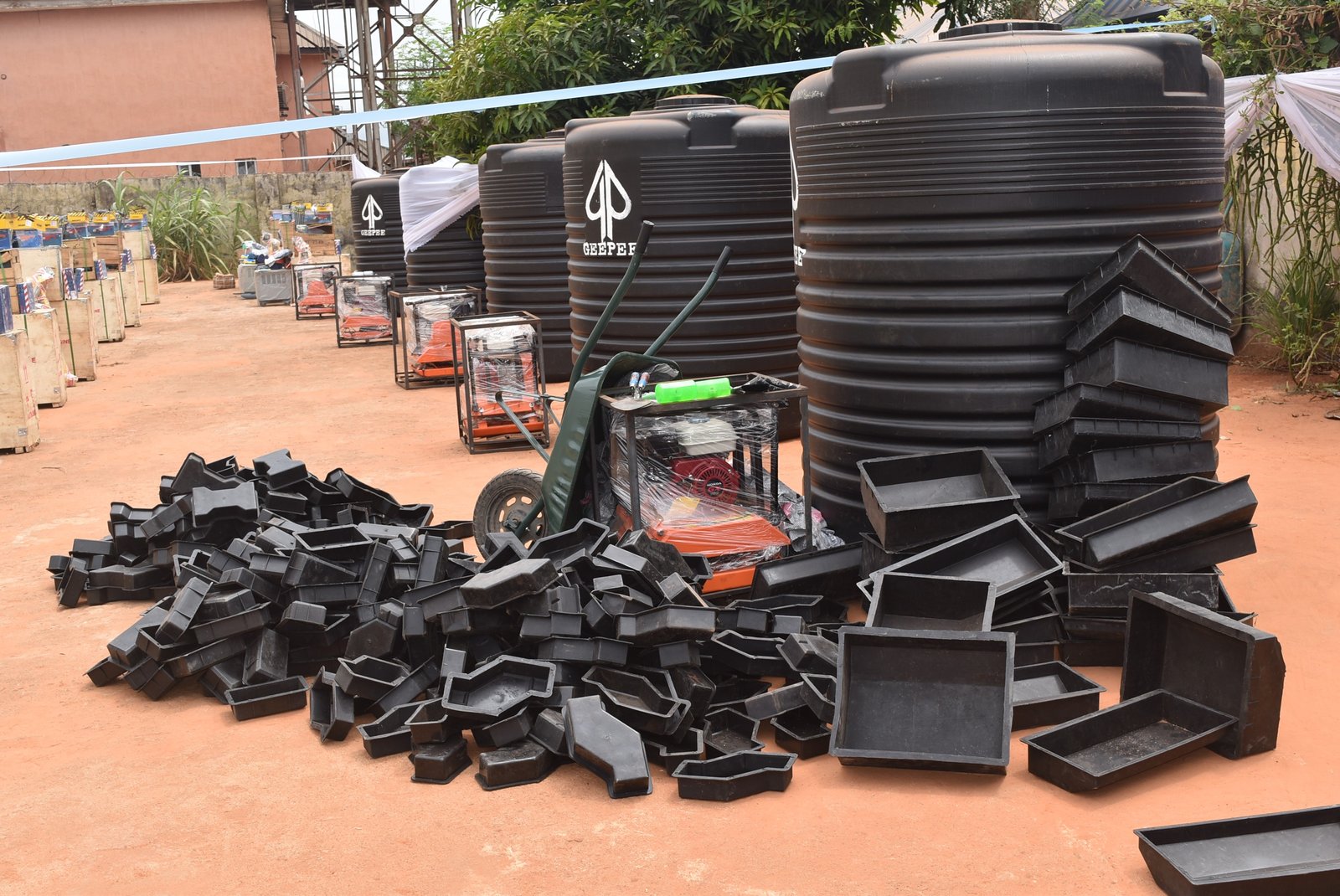 Gertrude Onyekachukwu-Uteh
Communication Officer
Office of the Chief Job Creation Officer