As part of its commitment to developing the agricultural industry, the Delta State Government is set to establish more youths
engaged in its Youth Agricultural Entrepreneurs Programme (YAGEP) in cluster farms across the state.
This assertion was made by the Chief Job Creation Officer, Prof Eric Eboh, during the inspection visits to YAGEP Tomato Farm Cluster and YAGEP Fish Farm Cluster in Ogwashi-Uku and Delta Agricultural and Rural Development Agency (DARDA), Ibusa respectively.
Addressing 17 YAGEPreneurs located at Ogwashi-Uku in Aniocha Local Government Area, Prof Eboh, said the beneficiaries are programmed to engage in vegetable farming beginning with tomato because of its viability. He added that after three months life cycle of tomato farming, they would commence cultivation of other vegetables as cucumber which is ecologically suitable as well as economically viable.
 He commended them for their diligence which he said is reflected in the healthy 12,000 seedlings which are in their final development and are ready to be transplanted to the field. He said each YAGEPreneur has been allocated a hectare of land for tomato farming.
He remarked that the state government has another tomato cluster at Songhai Delta, Amukpe in Sapele Local Government Area, urging the trainees to apply the knowledge acquired from their trainers to become great entrepreneurs in the agricultural sector.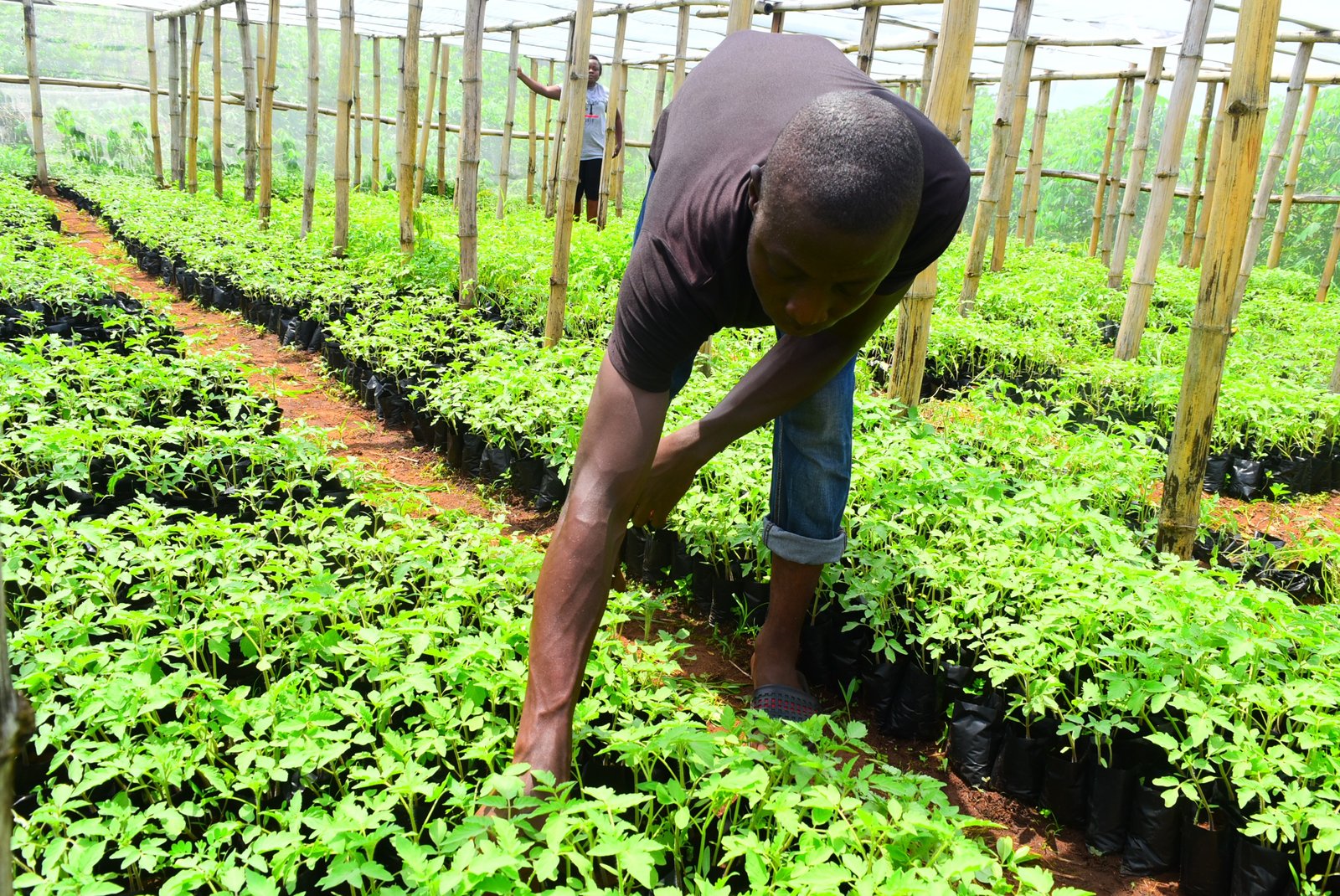 At the YAGEP Fish Cluster, DARDA, Ibusa, the process of erecting a roof for the tarpaulin tanks was on as workers and the contractor handling the project was on site.
Addressing the trainees, Prof Eboh explained that in the 2017/2018 cycle, the state government is developing four fish farm clusters across the state which according to him are located at DARDA, Ibusa in Oshimili North LGA; Owa-Alero in Ika North East LGA; Ugbokodo-Okpe in Okpe LGA and in Egbokodo-Itsekiri in Warri South LGA.
He disclosed that 27 beneficiaries of YAGEP are located in DARDA, Ibusa and that each of them would be allocated 3 tarpaulin fish tanks. He said each tank has the capacity to accommodate 800 fish, adding that each beneficiay would receive 2000 juveniles, feeds to train them to table size and #15,000.00 monthly stipend for nine months.
"Apart from the physical inputs, you would have access to agricultural extension services who would render guidance, support and mentoring services so that your technical know-how would be upgraded, he remarked.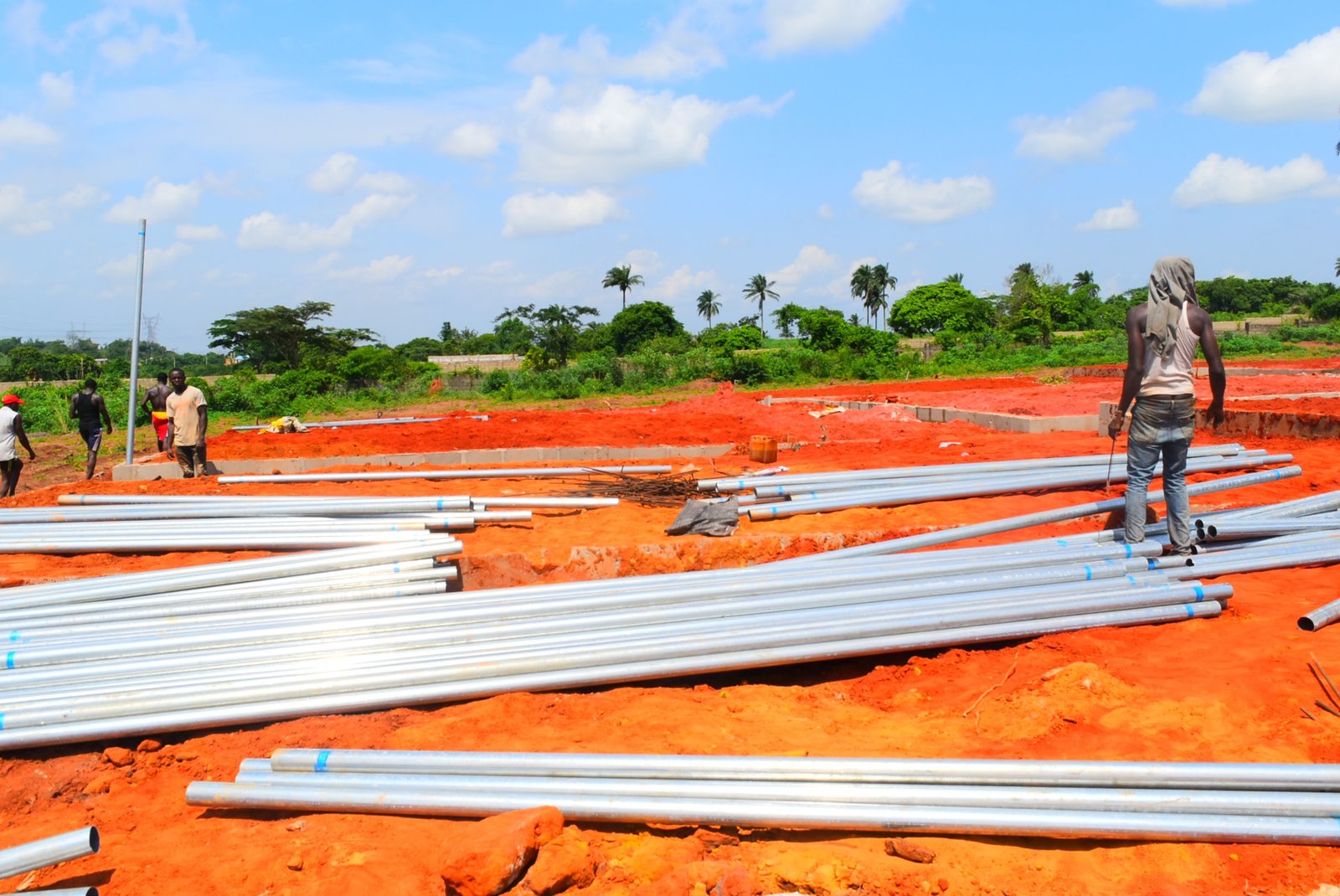 He also said that all beneficiaries would undergo Entrepreneurship and Business Management Training (EBMT) at Songhai Delta, Amukpe so as to improve their entrepreneurial abilities in relation to how to manage, grow, finance, plan their businesses among others.
Speaking differently, Juliet Okocha (Tomato) and Lucas Isichei (Fisherys) commended the Governor, Senator Ifeanyi Okowa, for his foresight in initiating the Job Creation Scheme. They said it has in no small measure created jobs for the youths, pledging to take their enterprises seriously in order to become great entrepreneurs and business managers.
Gertrude Onyekachukwu-Uteh
Communication Officer